Posted on
Animal Park Tycoon Winter update !
BY: Shinypix / 0 COMMENTS / CATEGORY: Update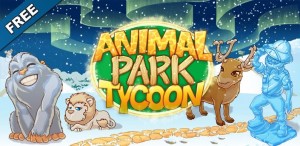 Create a magical zoo for Christmas!
This winter, Santa Claus comes by Animal Park Tycoon before swooping in your chimneys!
Manage your zoo to create a magical park for your visitors during the holiday's season.
Celebrate Christmas with exclusive animals and legendary species like the unicorn or the yeti to make your animal park unique and famous. Satisfy the needs of your visitors and find the best entrance price. Manage your zoo's reputation and attractiveness: keep your animals happy and bring Christmas magic to your park with all the decorations!
Exclusive Christmas content:
Hire Santa Claus for a boost in your zoo's popularity
14 exclusive animals including the reindeer, the white tiger, the polar bear and the snow leopard
3 legendary animals added: Red Dragon, Griffin, Yeti
Special Christmas decorations: 4 ice sculptures, a Xmas tree and a snowman
Posted in Update